The infiltration of technology among masses is like never before, this has led to many indefinite options and expansion in the ideologies and thinking and how it affects our day to day life is amazing. Dependability on the ease of the internet as well as the use of Wi-Fi connectivity gadgets has increased threefold in just a few years. One such change in the way of technology development constantly rising with years of operation is IoT or more specifically IIoT, in this article we will deal with a detailed explanation of IIoT and its implications.

IoT or the Internet of Things is related to the integration of more complex internet usage belonging to the personal computing and Smartphone and main simpler changes in the environment of the user. This connectivity can be further used for much more productive uses like collecting data directing it and send it back or vice versa. This, in turn, led to a more explosive and meaningful relationship between business dimensions and users with high-level completion of the task.
In more technical terms we can say that IoT is a correlation between the computing devices, their mechanism, and digital machines as well as simpler objects this is provided with a unique identification code and has the ability of interacting data over a network without even human-to-human or human-to-computer interaction requirements.
Industrial IoT (IIoT)
The Industrial Internet of Things or referred as IIoT uses the network and its sensors and intelligent devices like Smartphone or laptop and outsource these technologies to use directly on the manufacturing floor, collecting data to further streamline the use in artificial intelligence and analysis of the decisions and their prediction this has lead to expansion of small scale business also.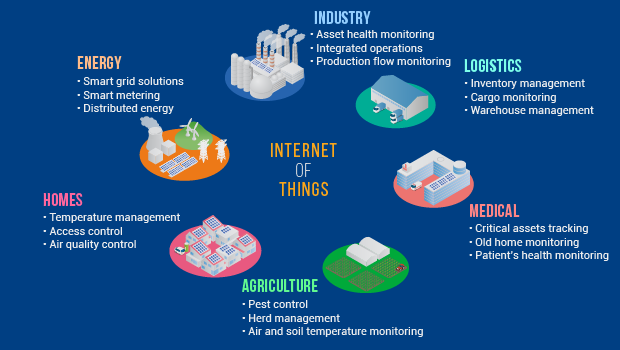 If we look at the explanation in a more simplified way then we know that when one is connected to the internet, we tend to share information, we send data, receive data which makes us smarter in a technological way. This can be further used in the industrial sensors these could range from temperature sensors, motion sensors, moisture sensors, air quality sensors, light sensors.
Usage of IoT in industries can be numerous ranging from a simpler form of printer or fax machine that receives your document from the internet and print it out to more complex form like space missions where communication between the space satellite and scientist are established through this wireless system, likewise, examples are numerous and endless.
Take another example that how a simpler form of this industrial technology can affect the lives of millions…irrigation navigation system where all information about the soil moisture, how much the watering of the crops is required, and crop growth data collection and sent this to internet and this can be further connected with the weather forecast and monsoon prediction and this benefits thousand of the farmers creating incredible information about how to make maximum productivity of the crops and minimal destruction to the crops. This very well explains the power of prediction and how it leads to machinery efficiency and effectiveness.
This is not related only to money making but a broader human value aspect as well take an example there is an oil well where thousands of workers are working in the middle of the sea and the pressure level inside the well is about to reach a maximal level in such case an earlier detection through sensors and transmission of this information through IoT can lead to saving lives of these workers which would have been impossible till now.
Through this, we can understand that how IIoT helps us in dealing with emergency conditions and ahs minimum causality and maximum productivity. Similarly, our defense forces medical equipment all are now completely migrating to swifter and better options of IoT rather than doing things manually. We can say that in coming near future there will be a proliferation of equipment based on IoT ranging from manufacturing robots to aircraft engines.
The industrial thing of the internet is different from a thing on the internet. While IIoT is more focused on devices and machinery in industries whereas thing of the internet is more focused on appliances like mobiles and computers.
Environmental sustainability
It idealizes the digital transformation toward a better livelihood goal and enables more production, efficiency, communication between the collaterals and finding solutions are made easier. This process of a smarter way of living puts fewer burdens on the environment on a broader light.
Enormous business potential
The industrial thing of internet technologies help to change the way of life not in one but many ways say for example how are now products being manufactured and delivered, making product factories more efficient and whole procedure less painful and easier to connect, ensuring better safety equipment for workers. This can be further linked with the doorstep delivering a system of these products and customer satisfaction many portals like Amazon, Flipkart are using these technologies to make multimillion international companies with relevant profits too.
IIoT devices need a security system
Along with numerous benefits IIoT too has a loophole and leads to many malware and frauds, that's why IIoT devices too require maintenance and security system. We are no way immune to such vulnerability but can work on the same to make things better. You might get exploited by the hacker or may end up losing your money as said fortunate things also comes with misfortunes.
On one hand, integration of artificial intelligence with IIoT and NLP has completely changed how we monitor and execute our lives but on the other hand, our own life is sometimes become an open book due to technological glitches.

Industrial Things of the Internet is completely changing our lives and this will continue even in 2019 in a much better and minute of the way through connectivity and sensing. This will build a sense of freedom and creativity among individual users in the receiving as well as sharing data with an ease of only one click away. The primarily goal being focused on the participation of the whole world as an entity executing things in a convenient way. It will be a thrill to witness such a huge change in the market with the addition of Internet of Things to check on the impact. However, it is going to take its own time to grow and thrive in the field to get the best of all.