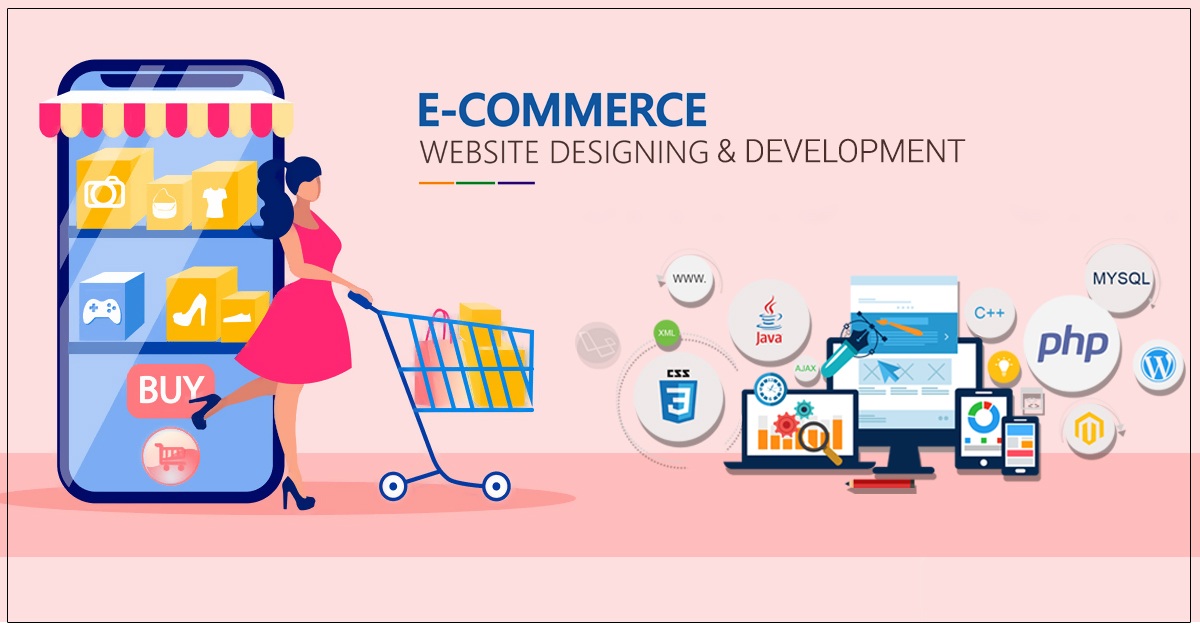 An eCommerce business website is the very first impression to a potential customer. An engaging and accessible website has the power to bestow a professional edge to the company, leading to the proliferation of its sales. For a company generating all its reveue from internet, it becomes all together important to focus on a good web design. With the greater shift to online businesses comes the greater competition from sites which have already cracked the code of keeping the visitors hooked. A bad website design can prompt your customer to jump instantaneously to your competitor offering similar products. By designing a good eCommerce website, a company can provide a seamless experience to the customer leading him back to your site and bring along other customers who are intrigued on hearing about your site's functionality, security, and authenticity.
What Goes into Making an Exceptional eCommerce Website?
We have summarized 7 essentials that go into designing a good website for eCommerce businesses. For creating a good web design for eCommerce it is essential that you include these items in your checklist leading a successful web development.
Share this Image On Your Site
1. Brand Recognition
The website should reflect the soul and essence of the company and should be constructed keeping consumers in mind. Whether it should be minimalist and simple, elegant and classy or fun and colorful, should depend on the target audience. When a company recognizes its spirit and is aware of its character, it becomes easier for the web designer to translate the thoughts of the company to a site which can reflect the ideology of the company.
2. Responsive Web Design
Due to a gargantuan increase in mobile traffic, optimizing for the desktop view should not be the only criteria in developing a website. It should be compatible with all kinds of devices, irrespective of the size of the screen. According to iAcquire and SurveyMonkey, if a website is not mobile friendly, 40% of online users will go back and choose a competing retailer . Four out of five consumers shop on smartphones, making Responsive Web Design a necessity today for eCommerce retailers.
3. Good UI/UX
To provide what your customer is seeking, should be the focus of the company. If the website is too flashy and incomprehensible, it might take the attention of the customer away from the product. A card like layout is quite in trend as it gives the customer a good briefing about the products the company wants to focus on. For e-commerce sites, the eventual goal is to get conversions, that is to convince users to buy their products, and not just remaining merely a visitor. Understand the intended target audience and design the website accordingly.
4. Search Engine Friendly
SEO should be taken seriously as it is pivotal to the success of an e-commerce business. An effective SEO can strategically place your site among the top of web search results, and as the competition is colossal it becomes a necessity to stand out in the crowd. Web designing and SEO goes hand in hand. As stated by BIGCOMMERCE, SEO accounts for 30% of e-commerce site traffic, giving a massive opportunity to online stores to acquire unpaid traffic.
5. Seamless Payment Process
The buyer should be engaged right from the moment they visit your site till they make a purchase . It is mandatory to have a secure payment gateway; else the reputation of the company will suffer and to restore the trust will become a difficult task ,sometimes even impossible. Nobody wants to risk their money, thus to bring transparency in financial transactions is a must for the e-commerce retailers.
Efficient and easy to use shopping carts are indispensable to the success of your e-commerce site. 'Add to Cart' button should have a greater visibility near all your products. Ajax functions can be used so that the customer can view the contents without leaving the page. Ask your web developer team to check the compatibility of the cart with the payment gateway you have chosen. A faulty, inefficient, slow to load cart accounts to a wasted sale opportunity.
6. Speed
Consumers are not patient enough to wait for a specific site to load when they have a plethora of other similar offerings to choose from . They expect the site to load in a blink of an eye. A 1-second delay in page loading can make you lose views by 7%, customer satisfaction by 16% and conversions by 7%. Thus, it is important to make website speed a priority. It is recommended that you use Google page insights and Pingdom speed test for checking your site's speed.
7. Enable Personalization
The demand for personalized buying experience is on a constant rise. e-commerce giants like Amazon have realized the benefit of using personalization to provide enriched buyer experience. The website should focus on providing smart content like recommended products and personalized carts based on buyer behaviour. To add to it, gamification and chatbots can also play a big role.
With the help of these pointers you will not only make a stunning website but also leverage it to overshoot your revenues. These essentials are a must have in any eCommerce website to drive customers to sales and finally into returning visitors.