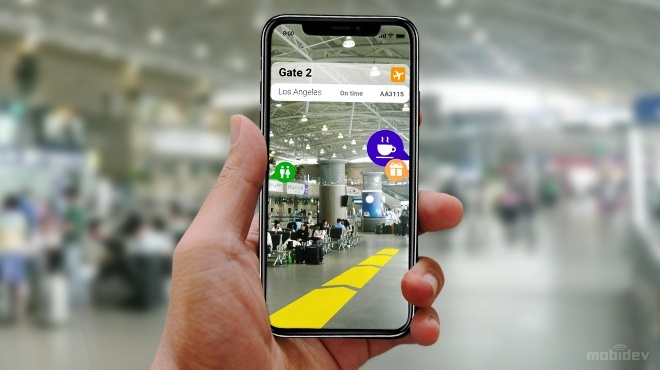 Technology has always played a significant role in enhancing the lives of human beings. It has contributed immensely to revolutionizing everyday activities. Whether it's cooking, studying, washing or whatnot, technology has its mark everywhere, and the augmented reality is the next milestone in the journey.
Augmented reality has finally arrived and is hugely impacting the way we do business. It is really game-changing as it will open up the users a million opportunities. According to a report by IDC spending on AR is likely to increase at a rate of 113% annually. However, video games will continue to dominate the AR market. Additionally, other industry sectors, including sales, manufacturing, and retail are expected to exceed consumer spending by the year 2021.
In this article, we will explore the ways AR is changing the different industry segments. We will look at how these transformations are likely to influence the services or products delivered.
What is Augmented Reality
Augmented reality could be described as an interactive environment where we can experience a reality-based display of objects using computer-generated display, text, and effects. In simpler terms, it is an arrangement of superimposed images, graphics, videos, and other sensory improvements to a real-time display in real-time.
Advantages of AR in business
AR in Retail
AR in the retail industry will elevate the shopping experience to a greater extent. It will remove the existing gap between digital and brick mortar shopping. It will eventually introduce enhanced ways of shopping, which include:
1. Try before you buy
Using AR in online apparel stores will allow users to see clothes in a 3D form. With the help of virtual fitting rooms, they will be able to find the right fit. Consider the furniture retail company, IKEA. The company is leveraging technology to enhance its customer experience. With AR consumers can virtually observe how a piece of furniture would look in their home. This initiative is likely to draw more sales and bring down costly returns. Similarly, L'Oreal's Makeup Genius app can turn mobile phone cameras into the mirror for providing a trial of different L'Oreal products.
2. Personalization
Using augmented reality physical stores can seek the benefit of personalization strategies that are generally applicable to online shopping. Using predictive analytics and machine learning algorithms retailers can filter out shoppers and provide them customized offers based on their shopping profile.
AR in Industrial applications
In industrial applications, practicality dominates over all other aspects. Here AR has much more potential scope. It is likely to transform the way jobs are executed in industries. It will reduce the chances of failure by elimination approximations or guesswork from manual tasks. Using AR technicians will be able to communicate and receive live assistance from remote staff.
1. Enhance maintenance and repair process
Using AR technology or device manufacturers can improvise training in their firms. They can guide workers on while maintenance and assembling. This will eventually devise significant improvement in the quality of products.
2. Help consumers carry out their own repair
This is one of the important benefits of using AR. With AR technology by side consumers will be able to watch technicians perform replacement and repairs through visual demonstrations. This will help inexperienced people complete common repairs through step by step guide.
AR in Design & creative fields
The design and creative industry will be likely to experience some of the positive impacts. The introduction of AR will enable organizations to create 3D objects by superimposing them into physical space. This will further provide them stronger sales and marketing tools. Furthermore, the CAD modelers and artists will also achieve competency to provide products through an enhanced 3D workflow procedure.
For example, the introduction of AR into manufacturing for product designing can help designers recapitulate designs and models quickly into the 3D environment.
AR in Education & Training
AR in education and training will uncover unlimited possibilities. The technology will provide them exposure to real-time simulations. It will authenticate learning by providing trainees the virtual experience that can be ingrained into real life. For instance, medical students will be able to learn and perform surgeries without requiring any injured human being or animal. They will be able to receive practical training for complex medical processes in a 3D environment. Moreover, future astronauts will get trained beforehand for space missions.
Furthermore, when it comes to imparting training to staff in large organizations the AR will have a noteworthy impact. A company will be able to train staff using the same curriculum at the same time across different locations.
All in all, using AR in training will enable the employee to hone their skills efficiently. It will provide them the needed competence for a specific job. Also, this will mitigate risks to the workplace and employees.
AR in Customer Experience segment
Today people are more alienated towards technology. The adoption rate for modern technologies is very tremendous among the younger generation. And the AR is the next big step towards it. It will bring methods and processes to deploy the technology which will significantly contribute to enhancing customer experiences. One such initiative is Magic Leap's Cheddar news app that enables its headline newsgroups to distribute live video feeds to customers in a 3D environment that can be placed and watched almost at any location. Thus, the businesses that integrate AR into their product offerings will be able to enjoy a direct visual engagement with their consumers.
For example, Using AR, social media platforms can allow its users to carry out interactions in 3D space without involving any physical connection.
AR in Tourism
Pairing augmented reality with GPS enabled mobile apps can help tourists find direction and routes to the desired location. Moreover, it can provide additional assistance for translating street symbols for rendering information about the destination. Well, visiting the museum with AR at your disposal will help you relish an amazing experience. You will be able to perceive objects visually in a 3D environment.
The future of AR
Augmented reality has numerous applications for businesses. It can hugely transform the way businesses are conducted. It will revolutionize the way enterprises connect to their audience and other stakeholders. However, it would be interesting to watch AR grow over the next few years. It would be fascinating to learn how businesses incorporate AR techniques and leverage them to attain optimum outcomes. Extended functionality, ease of operation, enhanced experience and the list goes on. There will be countless benefits that this technology will bring along. It will make things easier than ever before. Undoubtedly, it will create a boom and seek the attention of every industry key driver.
Today is the best time to get started with technology as it is a favorable time. With an intensively growing number of mobile users, high-speed internet connection and seamless connectivity all over are elemental in promoting the growth of AR. Therefore, businesses that desire to seek expansion should explore the benefits of this technology. They should become prepared to face upcoming changes and challenges ahead of the path. This is because the current trends clearly reveal that a large number of organizations including some technology leaders as well are investing madly in augmented reality. And no doubt within a few years this technology will take significance as the mainstream medium for the online experience.