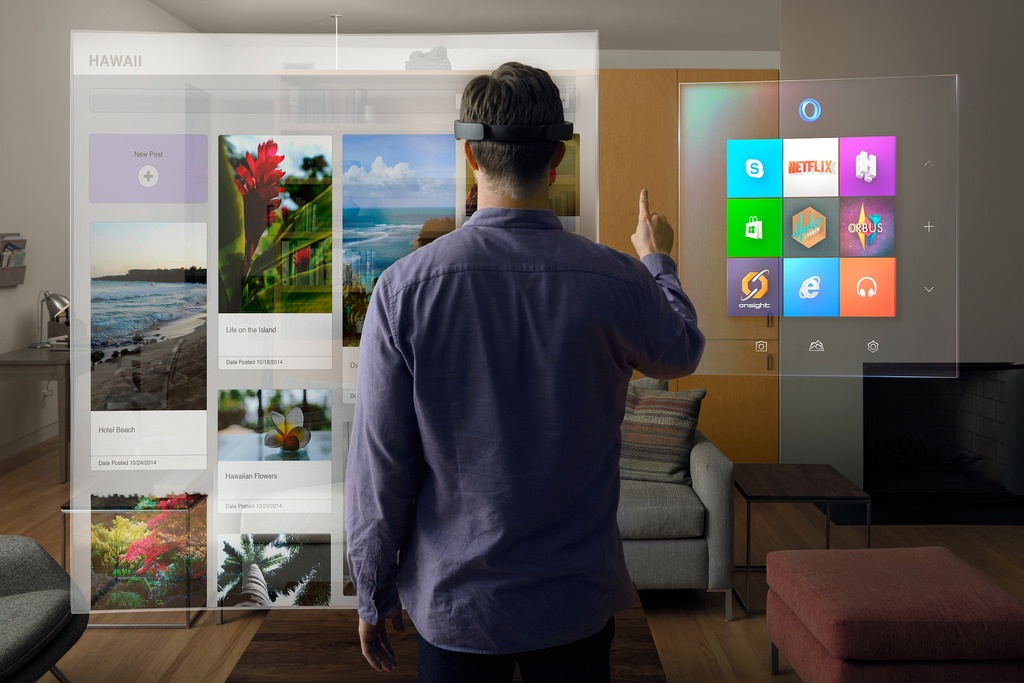 A technological innovation seems to revolutionize one of the world's oldest businesses. AR has just arrived and is already changing, the way it has been developing architecture and civil construction in recent centuries, benefits to engineers, designers, project managers, architects, service providers and all construction teams are delivering.
Progress in technology opens up a new path in the construction and architecture field, making it easy to visit a project before finalizing them. Nowadays virtual reality in the construction sector is already a reality and we can offer to see your house how it is going to be capable of making changes in the moment without waiting. With this technique we have a more real home visit and the customer will not have any doubts about his future home. You will appreciate the size of the room, color, content and change texture. Even if there are good scenes in the house, real photos can be recreated with 3D animation. It provides all customer decision-making facilities.
There are already many companies that are working on specific virtual reality and 3D software, which will allow customers to tour through virtual reality glasses and headphones, as if they were present on the site. Along with these architects, a work contractor and supplier will be able to do 'connected' work, which will be able to look after the work of some others before work begins, even from different places.
Unlike virtual reality, which creates a completely new environment from the real world, augmented reality involves virtual elements which are already present. Thus, it is possible to unify virtual architectural projects with the reality of the land where it has been built, its efficiency and accuracy increase, reducing errors and saving time, money and resources.
We know that work is usually chaotic, noisy and dirty places. Although adopting the BIM system leads to a lot of discrepancy and unpleasant surprises during the construction process, it is inevitable that suspicion arises and there are errors during work. And, more important, money and time are spent in every mistake.
The idea is that what augmented reality will be created, as well as all the layers of material and features, can easily provide difficult visualization to understand through pictures. For this, the holograms of 3D plants and even virtual models are used, improving the understanding of the project and the execution of various processes. During construction, the ability to look through the walls and understand the path of features facilitates the process and reduces the likelihood of errors, and may even guide the creation of complex geometry.
For all of this, a device usually requires glasses. Currently there are many manufacturing companies, but the most widely used in civil construction is Microsoft HoloLens. One of the major reasons for builders to choose Microsoft HoloLens is its cost and certification as a protective spectacle. The company DAQRI has developed a safety helmet integrated with glasses to facilitate use by the Civil Construction Professionals.
One of those areas which will get maximum benefit from augmented reality, inspection and management of tasks is the construction industry.
We select some augmented reality technologies that can revolutionize the way of the construction industry.
Morpholio AR Sketchwalk
AR Sketchwalk is a tool that allows us to immerse ourselves in our sketch, gives our customers more real perception of the design space themselves. Through an iPad, we can bring the design on the plan (it can be the real realm of the project) to go through it, and we can also remove its walls to better consider the space. It improves the experience of presenting a project, making it very interactive and clear for the customer.
DAQRI Smart helmets
DAQRI Smart Helmet is a helmet that allows you to imagine projects and 3D models in augmented reality, experiences it as a huge and massive 3D environment. Teams can compare work in progress with basic designs and can synchronize work and work in the office entirely through digital workflow.
Measurement app for iOS and Android
Today, in addition to the AR measurement, which we discussed in this article, there are some applications available for the same purpose. IOS 12, for example, comes with a measurement application already installed. Using augmented reality, these apps work as digital rules, calculate the distance in real locations through the camera of your cell phone or tablet. With them, you can measure objects and attract the plants of an actual place. AirMeasure and TableKit are some of the most used applications.
Augment
The gadget is an application that allows users to see 3D models in real-time and on the right scale, to change a plant in the hologram of 3D model or to emulate products in real size. The platform is available for Smartphone and tablets and used by designers and marketing teams, which reduces the cost of prototype and increases its appeal to customers.
Hologram
Using the enlarged reality glasses called Hologram HoloLens; the hologram transforms the 3D model into actual construction instructions. The program seeks to facilitate the construction of complex projects, which requires a series of measurement, verification and specific care, which are almost in the workspace through digital instructions, a step by step guide for the masons during the construction process lets emulate.
Gamma AR
GAMMA AR is an application for monitoring tasks that uses augmented reality technology to supplement 3D BIM constructs through tablets or Smartphone. It allows the comparison of the reality of the work with the information contained in the project. GAMMA AR allows visualization of the 3D BIM model before the construction process and during construction, which helps in planning, avoiding errors and reducing construction costs.
WakingApp
WakingApp, a virtual and augmented reality software company, recently launched the add-on, which allows Autodesk Revitt and Fusion 360 users to convert their 3D projects into augmented reality and virtual reality through a Smartphone or tablet.
ARki
ARki is a real time amplified reality visual service for constructional models. Includes the technology of augmented reality in architecture, design and presentation provides 3D models with different levels of interactivity for both purposes. It can be used on any iOS / Android device.
Dalux Viewer / Dalux Build
The Danish app Dalux provides three augmented reality solutions for civil construction. Dalux Viewer is a free application that is available on iOS and Android platforms, which allows users to design 3D models and digital images at real construction sites. The Dulux Build combines augmented reality with other tools which guarantees smooth flow of information in all stages of the project, facilitates the management of construction projects. DaluxFM provides solutions for managing facilities including outsourcing and asset management, asset management, electrical maintenance, hydraulic, income control, as well as contracts for local conservation activities.
Need help with your AR or VR solutions? Get in touch