"Apple makes the best products in the world," Cook said in reference to everything announced in recent months, from new MacBook (with keyboards that fail very often) to services such as AppleTV + or Apple Arcade or Apple Card, which has not yet they have launched to the market.
Here are the important takeaways from the Apple WWDC 2019 keynote event.
iOS 13
The iOS 13 is all about speed. FaceID unlocking will be 30% faster, downloads will be 50% smaller and app launch will be twice as fast as iOS 12.
Apple also announced the Dark Mode for the iPhone which changes the backgrounds from white to black and black text to white (ah my eyes…) You can also swipe to type along the keyboard (kind of like Microsoft Swiftkey)
This update also brings along AI to the Reminders app which can predict when to remind you about input text and you can even tag people when talking to them using Messages.
The Maps app is also getting an update for US and select countries to include PoIs, collections and shared lists. A Google Maps street-view like 3D view will also allow you to zoom through streets.
Another announcement of interest was Privacy. Apple has always upheld user privacy in utmost importance. And these updates continue the trend. When you share your location, you are informed to know it is still running. Social media logins on sites will now allow you to sign in with Apple. This is fast, easy and protects your accounts (no more tracking cookies!) Users can also provide randomly-generated email ids to forward messages that come to their accounts to avoid having to enter their actual email ids.
The Messages app will now support an image of the user when exchanging messages and memojis will receive upgrades with accessories. The camera app also introduces a new Portrait mode lighting mode called HighKey Mono. You can also rotate videos! The Photos app will automatically remove duplicates.
iPadOS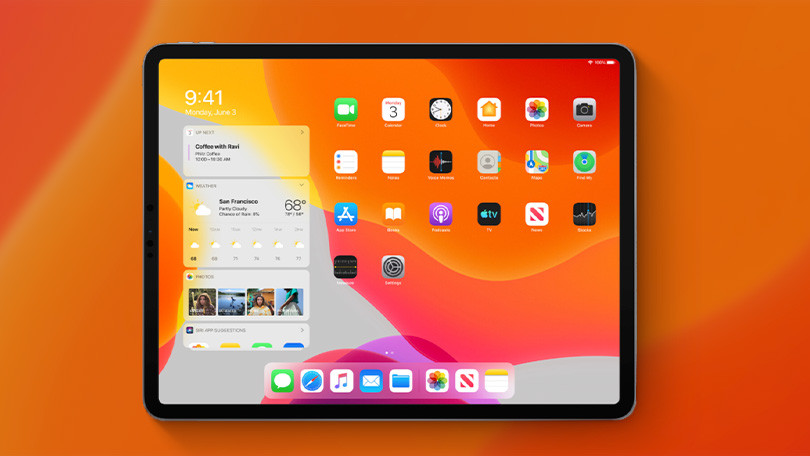 One of the major changes we saw with this keynote was Apple splitting its mobile operating systems – they are now developing the iPadOS, a separate OS for iPads. The first version of the iPadOS is expected to be released in September. The iPadOS is expected to feature a simplified way of running multiple apps simultaneously, support for thumb drives and desktop style web browsing.
The iPadOS gives Apple the ability to develop features for a bigger touch screen without affecting phone-friendly features of the iPhone, so it is definitely a sensible move. This also shows that Apple is finally moving some focus back on the iPad – something which hasn't happened since the iPad Pro was first introduced in 2015. Apple is looking at replacing your second monitor with an iPad soon.
Apart from this, the iPad's home screen saw an overhaul with the ability to add widgets on the home screen. Files will have a column view and iCloud Drive folder sharing. Notes will support three-finger gesture control to copy, paste and undo for enhanced text editing, and Apple Pencil's latency has been reduced from 20 milliseconds to 9 milliseconds.
But what does a separate OS for iPads mean for developers? That remains to be seen.
New Mac Pro and macOS Catalina
Apple revealed its new high-end Mac Pro with 1.5TB of system memory and an Intel Xeon 28-core processor. It looks a lot like a cheese grater to be honest! But with those specs, it is ideal for use by film makers, designers and scientists (AND developers – would love to get one!)
The new macOS is being called Catalina. It is also decoupling iTunes and Apple Music, Podcasts and Apple TV will be 3 separate apps. Apple TV on newer macs will have 4K HDR playback.
A Sidecar feature will allow the use of the iPad as a secondary monitor with a Mac. An iPad with Apple Pencil support can be used wirelessly with a Mac.
Apple has also introduced new accessibility features. A Find My feature combines Find My iPhone and Find My Friends into a single app and will be able to access devices while offline as well using other nearby Apple devices as beacons. Screen Time will also come to the mac (really? Why?)
Apple TV and tvOS
Cook started the conference on the software itself talking about tvOS, the operating system of the AppleTV. It introduced a new interface to check series and movies and a more personalized family approach. You can create profiles for each user, something that already exists, for example, on Netflix.
The music app, Apple Music, will now display the lyrics of what is being listened to. And in terms of video games, the Apple TV will be compatible in the fall with the controls of Xbox One and PlayStation 4 ahead of the arrival of Apple Arcade.
You will also get access to under the sea 4K screensavers soon.
watchOS 6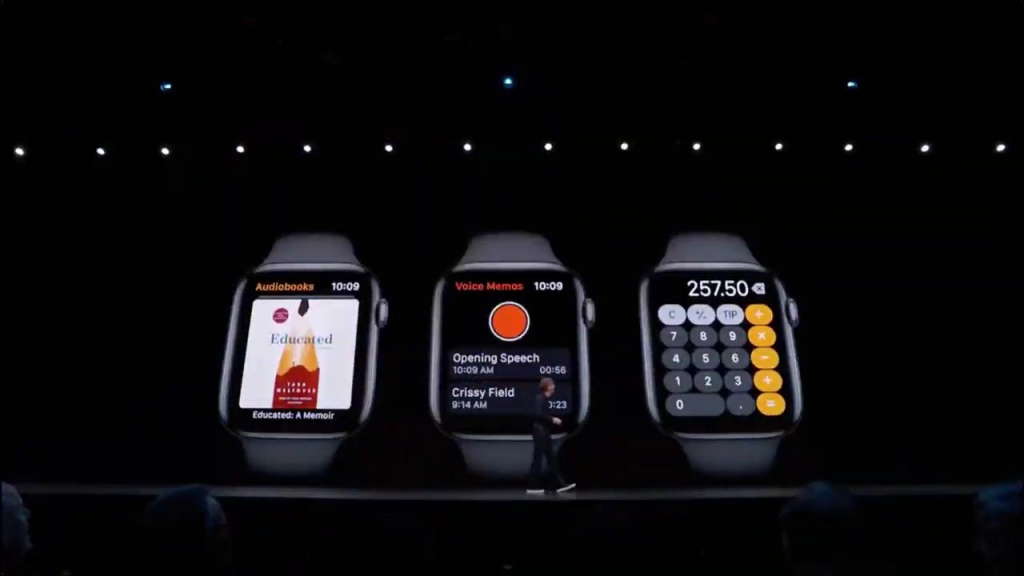 The Apple Watch will have new faces to show the time, both inspired by modern and classic designs. One of them follows the passage of hours together with the Sun, for example. The watch is set to receive several native apps, such as the Calculator, Voice memos, as well as audio books. All this is part of the App Store – yes Apple Watch gets its own App Store now – allowing users to search better using audio dictation and scribble.
Taptic chimes are also being introduced for all faces – get ready for your own cuckoo clock!
Health tracking has always been a major focus point of the Apple Watch and Apple is introducing new capabilities. One of them is Activity trends. It will be possible to make comparisons of long-term performance to better measure how your lifestyle changes: how much you move, how much time you spend standing, how much exercise you do if you do more or less in total.
A new Noise app will use the in-built mic to alert a user when they are in a very noisy environment for 30 minutes or more. It will not constantly record though.
Apple also introduced Cycle tracking, a period tracking feature for women.
The Pods (AirPods, HomePod) and Siri
Siri will now be able to read your messages aloud if you are wearing AirPods. It has also been updated to work with Pandora and Waze. Siri's voice will also sound more natural due to something called Neural Text Speech.
Live Radio will finally be available with more than 100K stations to choose from. Tapping your phone against another will let you share your Apple music playlist.
iPhone will be able to handoff to HomePod. HomePod will also become smart enough to recognize which family member is talking and respond accordingly.