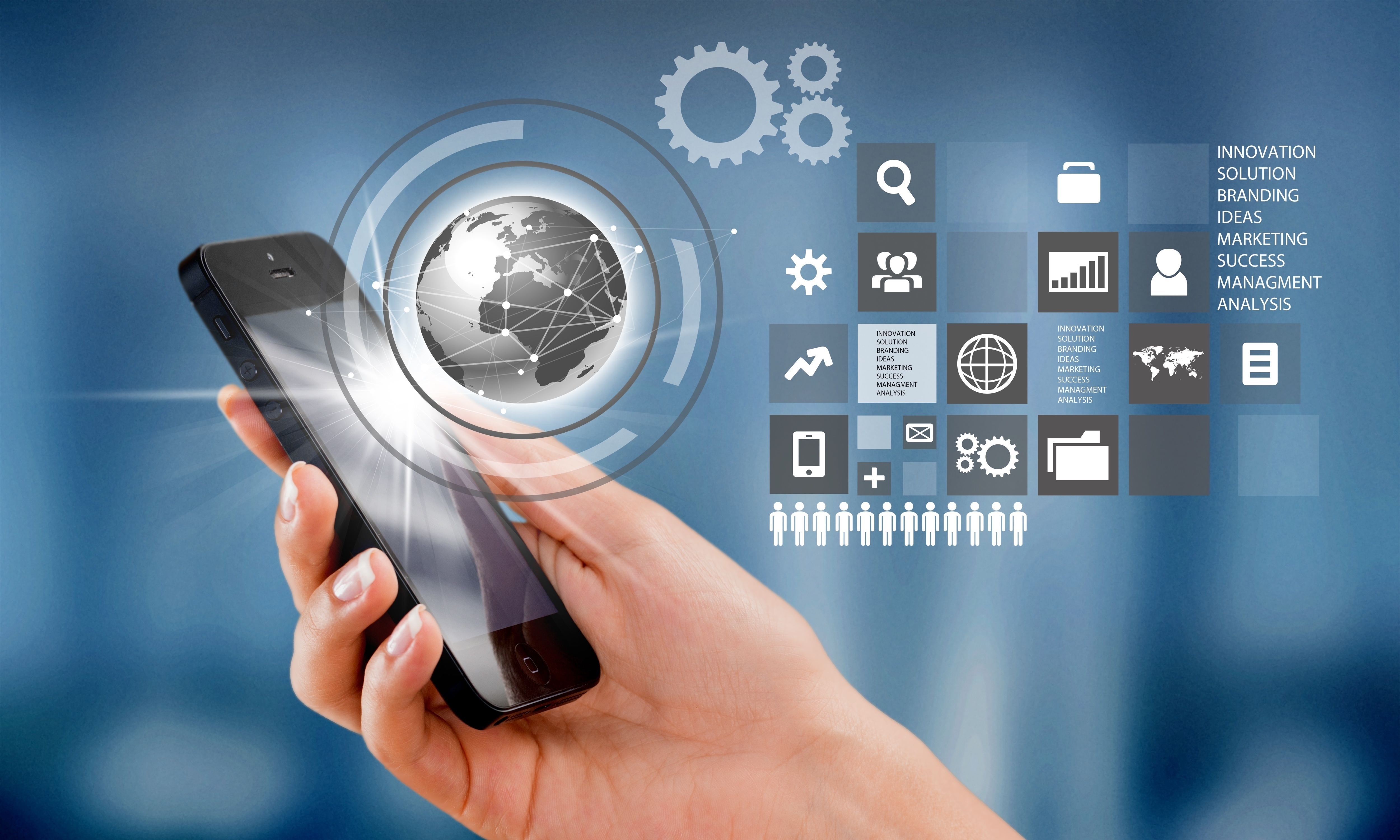 Technology is continually developing. These days mobile is an augmentation of us as a human. Consider it we use and depend on our cell phones for; not simply an instant message but for browsing email, updating friends on different platforms, watching videos, work, meditating, the list is huge. Hell, we even are checking our smartphones before brushing our teeth as the first thing to do in the morning!
The mobile industry may stir with some new and advancing mobile application trends in 2019 which may influence how we further interact with our mobiles and other portable gadgets.
By building the mobile app regarding the latest trends, you can satisfy the customers' ever-changing interests and market competition.
Let's have a look at the list of best mobile application development trends for 2019:
1. Cloud based apps
With technology and applications expanding in fame, there is more challenge for the regularly constrained storage space on smartphones.
Present day mobile apps development quickly accommodates cloud management. These advances let it conceivable to utilize data further effortlessly that doesn't use the internal memory of the phone. Among the most well-known cloud applications are Dropbox and Google Disk. But after them, a growing number of engineers start to utilize this tech.
As authorities note, applications dependent on cloud computing are significant from the perspective of data security. This is essential for corporate clients who fear data breach. As a guarded cloud, personal information of corporate workers is secured from threats.
2. Instant apps
Instant applications are moderately new Google technology that came into existence since 2016.
These kinds of applications enable users to use an application right through the Google Play store which means there is no need for downloading and installing the full application. This development enables the user to check the application a lot quicker without consuming up any space on the smartphone's memory.
Although a nearly new idea, though we can expect significantly more development and improvement of instant applications all through this year giving a quicker and progressively streamlined involvement to users.
3. Apps for wearables
While the most broadly utilized ones are smart watches and wristbands, the innovation is continuously spreading to different products, for example, smart glasses, footwear, and clothing.
This buzzing trend incorporates both the number of devices used to keep up a healthy life, i.e., smartwatches and fitness trackers and those intended to screen vitals for chronic patients – cholesterol, blood sugar, and pulse meters.
Every wearable gadget is to be synchronized with applications operating on mobiles. For health and fitness applications, it's obvious to include all of your information within the simple reach which is a smartphone. In this manner, numerous wearable devices accompany a mobile app, which demonstrates that the demand for mobile application development for wearables will go upward in 2019.
4. Beacons
The beacons tech and the location-based administrations are those applications which are spreading all over diverse verticals among industry like hotels, restaurants, retail, medicinal services, sports, and so forth.
At present, the beacons innovation is blasting. The mobile applications created by utilizing beacons technology encourages increasingly valuable functionalities that are later redistributed as data, for example, virtual guides.
Beacons tech is one of the upcoming innovations for 2019 which will intrude the whole mobile application industry.
5. Use of blockchain in mobile apps
The miracles of Blockchain discovery initially went under everybody's notice with the cryptocurrency market, and now the BFSI is anticipating adhering the security trend with this stunning innovation.
From control to processes and to secure, this tech is planned for managing the banking industry. It is something you must consider and converse with the mobile application development organization you select and leverage its advantages in a wide range of services you offer.
As indicated by a research-based site, the worldwide Blockchain distributed ledger is supposed to develop approximately $5,430 million by 2023.
6. Advanced Augmented & Virtual Reality
Mobile apps efficiently use the advanced features of flagship gadgets, for example, their unrivaled cameras. The cameras move toward becoming windows into a completely virtual world or an existence where the actual and the virtual image have a union.
Virtual reality and augmented reality have ventured out of the domain of games and are getting to be educating platforms, design showrooms, eCommerce devices, and meeting spaces.
With virtual reality, shop in a virtual shopping center or people can test-drive a new vehicle, and even a global team can hold a meeting in a virtual space.
With augmented reality, a doctor can project the patient's x-ray directly over their body while doing an operation, so it's always before their eyes.
Virtual and augmented reality is being connected in practically all enterprises, which, normally, makes popularity for the advancement of mobile VR and AR applications.
Mobile devices are further preparing for expanded use in VR and AR. Both Apple and Google launched VR and AR development packs – ARCore for Android in 2018 and ARKit for iOS in 2017. Both of them use hardware features vigorously, enabling developers to build incredible user experiences.
7. Artificial Intelligence and Machine Learning
Let's be honest; Artificial Intelligence is anything but another marvel in this time. As indicated by the International Data Corporation, it is assessed that the market for AI is going to be at $40 billion till 2020. It demonstrates more domains are peering toward to have the technology incorporated with human insight.
Up until now, the manufacturing and medical sectors have taken incredible steps to advance proficiency through AI. This is because of the high precision and capacity to grab real-time events.
8. In-app search
The following emerging trend in this list of mobile application development trends for 2019 that will make its impact is the in-app search feature that has officially advanced into Android apps. Fundamentally, this is an advancement to the User Experience (UX) model for applications.
Assume, you need to browse through a particular search result in a specific application at that point the in-application search option will help you by making the search speedy and easy. This mobile application development approach is probably going to end up fundamental in 2019 as end-users currently need one application to perform different functions simultaneously.
Two of the famous companies that have effectively embraced this new feature are Spotify and YouTube.
9. Mobile payment integration
Do you agree that cards are getting to be pointless since the period of mobile payments has come into existence? Our mobiles are steadily transforming into our wallets, as well.
Mobile banking administrations are changing the financial business environment. Furthermore, online shopping is getting prominent. An ever-increasing number of buyers are shopping by utilizing their mobiles. It is a quicker, simpler and progressively secure method for spending the cash.
The notoriety of m-wallets is rising, and we anticipate welcoming an increasing number of amazing mobile services for payment purposes this year.
10. APM and EMM
The mobile application execution is exceptionally critical because users don't really like applications that have poor speed, functionalities, and mistakes. APM – Application Performance Management was coordinated into Google in the year 2016 to help the application execution by wiping out the snug and different issues that may hinder the performance of an application.
It's amongst the most vital mobile application performance metrics which is utilized by application developers and testers both. It basically helps the general execution of the application and offers users a decent time. Superior performance implies additional time on the application that at last serves the business objective.
EMM – Enterprise Mobile Management empowers workers inside the company to utilize mobile applications to fortify the security and to enhance the general execution by streamlining and incorporating business methods in the application. Representatives can chip away on the tasks from the mobile itself that wipes out the workplace reliance.
AMP and EMM trends are clearly going to end up as a staple in the inevitable future as they enhance versatility and performance to provide more uniformity to the users.
11. Application Security
Online security is frequently in trend and has to be. Malicious software is becoming increasingly hazardous. What's more, as the years pass by, it inspires increasingly hard to uncover the potential traps and keep away from data leaks.
Mobile apps store gigabytes of sensitive information. Our cell phones find out about us than anybody else. So, it's pivotal to ensure this information. In case you are in charge of your clients' personal data security, you ought to consider it critical and watch out for mobile application development trend in 2019 aiming at empowering security.
12. On-demand apps
What was once being named as an unavoidable bubble in the domain of mobile application development, is currently one of the emerging trends. The on-demand market fulfills the need of customers on an urgent basis, enabling instant access to goods and services.
With enterprises grasping the on-demand plan of action, one can expect UI/UX improvements, predictive analytics, mCommerce services, and business bots, to accelerate the development of Uber-for-X applications in the year 2019.
Need help with your mobile apps? Get in touch today